Bermuda #1
$16.00 / bale
Buy 25 or more and get $1 off/bale
Bermuda #2
$14.00 / bale
Out of Stock, Check Back for Availability
Rhodes Grass
$15.00/bale
CURRENTLY OUT OF STOCK, COMING AGAIN SOON
Bermuda Cow Hay
$8.00/bale
CURRENTLY OUT OF STOCK
Bermuda Hay And Rhodes Grass and Livestock
In addition to our alfalfa hay, we also offer bermuda hay and rhodes grass. Unlike alfalfa which is a legume hay, bermuda hay and rhodes grass are grass hays. So rather than the higher protein levels found in alfalfa hay, bermuda hay offers lower protein and higher fiber levels, promoting healthy digestion and making for a great base fodder for less active animals, or animals that have a tendency to be overweight.
In fact, grass hay in general is often used to supplement feed blends so animals are not just getting necessary nutrients, but also feel full and have healthy digestion! It's important to note that at Triple L Feed & Supply, we harvest our bermuda hay when the grass is young to ensure optimal digestibility and texture.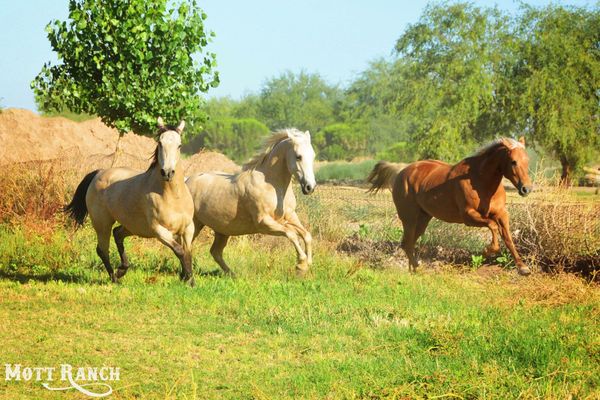 Additionally, like with alfalfa hay, you obtain an understanding of the health needs and requirements of your animals. While the bermuda hay we produce is the best quality, a beneficial diet requires planning and coordination.
We offer two categories of our bermuda hay, Bermuda Hay #1 and our Bermuda Cattle Hay. Along the lines of our alfalfa categories, the Bermuda #1 Hay is more tender with a less coarse texture, where our Bermuda Cattle Hay is more coarse and less tender. We also offer bales of rhodes grass, while not as popular as bermuda hay, this fodder is more affordable!
Feeding Animals Bermuda Hay And Rhodes Grass
Like we mentioned above, chances are you'll need to incorporate bermuda hay or rhodes grass into a blend with a nutrient-rich fodder like our alfalfa hay. This is because on its own it may not provide enough nutrients to your animals. However, it can be a great diet for horses who struggle to stay at the optimal weight, or even horses that aren't as active as a sport, work, or breeding horse.
Animals that can benefit from bermuda hay or rhodes grass include:
If you have questions about our bermuda hay or would like to place an order, don't hesitate to contact us today.